Solar Powered Backpacks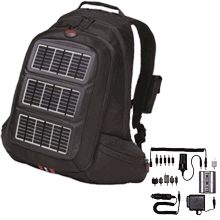 Solar powered backpacks have become popular with hikers, campers and city folks alike. They are able to recharge a number of different products that our modern lives require such as laptops, phones, cameras, GPS units, etc. A few things to consider when purchasing one of these items are the weight, charging capacity and whether it comes with an adapter compatible with the devices that you currently own or intend to buy. Another consideration...is it large enough to hold the things you want to carry! Prices range from $800 dollars for a high end luxury model to 50 dollars for a basic bag with a solar cell. Most decent solar backpacks will come with USB adapters so that they can be charged while your laptop is plugged into your computer at home. Good ones include an AC adapter in addition to a car charger. With many of them you can remove the solar cells or panel and attach it to other things like a bicycle or different bag. The added portability makes charging your electronics more convenient & increases functionality while not wearing the backpack.
A typical 4 watt cell will provide approximately 3 hours of cellular talk time for one hours worth of sun input. Charging a completely dead iPhone would take around 4-5 hours. The lower capacity packs are designed for handheld devices and are not suitable for laptops. (most tablets should recharge OK with these though) One hour of direct sunlight with a larger 10 watt solar backpack charger will yield about 30 minutes of runtime on a typical laptop.
Here's a video from Smart Planet describing the specifications of a popular solar backpack from Voltaic.
I attempted to find product reviews or comparison charts but was unsuccessful. I guess they are too new, or not widely adopted enough to currently have such information readily available.
Something that I came across while searching, that I thought was pretty cool, was the Solar Charging Station created by Sol Design Lab. They've created a place that provides seating, an awning and lighting at night for urban areas. The coolest part is that during the day the station provides solar recharging power for laptops, phones, electric bikes etc. Having power generating systems like these for the masses would surely help fuel our insatiable energy consumption.