Solar Power Battery Chargers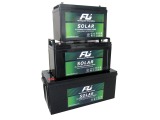 Essentially, a solar power battery charger is a solar cell (aka panel). Case closed, move on! But wait...there's allot more to charging batteries than attaching cables to a panel in the sun. A required piece of equipment is a charge controller. This device controls the amount of energy flowing to the battery. Power from the sun fluctuates widely even on a seemingly clear day. Without a controller the battery can be damaged by under current or over current. I would recommend for simplicity sake, one that is built into the other piece of equipment you'll likely need, an inverter. A power inverter isn't involved in charging your battery, rather how the electricity is taken from it and distributed. It converts DC electricity from the battery to AC power which is what typical homes use at the outlet and it maximizes the output of the system. Connected devices are also protected by fuses within the inverter. If you have a set of batteries for your solar energy system, you probably want to have a regular AC charger or trickle charger handy. These can be useful to top off batteries & provide diagnostic information when your utility is online.
There are obviously things to consider regarding voltages, watts, amps & the like. Rather than re-invent the wheel, I've provided some links below that explain all the techie stuff.
Wind & Sun has an excellent page about deep cell batteries which are the kind used in residential solar electric setups. (includes charging info)
Great information about charging with solar or wind turbines (& everything batteries) can be found at the Battery University.
---

Voltaic DIY Solar Charger Kit for Laptops, Tablets & Cell Phones - 16.8 Watt Solar Panel with V60 Universal Laptop Battery
---