Solar Freezers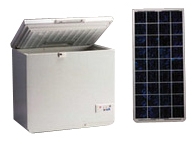 It seems strange to think of the suns warming rays enabling the storage of things at below freezing temperatures but, that is exactly what solar powered freezers are designed to do. There are numerous different shapes, sizes, purposes and prices associated with these specifically assembled devices. Products range from those used in RV's and in remote locations to massive industrial scale, multi-million dollar setups like the one at United Natural Foods (YouTube Video). Although the initial investment may seem steep, having the piece of mind knowing that your frozen foods or medicine do not rely on the availability of power from the utility company is priceless. Also, over time the energy savings will compensate for the upfront costs. Below is some information regarding traditional and sun based freezing.
Power Consumption of Traditional Units:
Typically 400-800 Watts (may require 3 to 7 times the wattage at condenser startup)
Voltage: 110 AC
Solar Powered Freezers:
Average around 85 Watts or less for comparable sized units (in most climates / temperatures)
12v or 24v DC or 110 AC
A popular manufacturer of solar freezers is SunDanzer. I've included a specification sheet & owners manual of one of their popular products as a reference. The documents can give you some idea of things to consider when buying a similar machine.
It isn't absolutely necessary to buy a freezer specifically designed for use with a solar setup. You can use a traditional unit with a power inverter (changes DC to AC) and more, larger batteries. It would also require a larger and more expensive array in order to provide the high power requirements of a normal unit. The age of your existing freezer is also a consideration as newer models are more energy efficient. (energy star compliant)
A few things you can do to save money & conserve energy
1. Turn up the thermostat (temperature) dial. Most people keep the setting lower than is required for adequate long term food storage.
2. If you have a manual defrost freezer, clean it out regularly when ice builds up more than 1/4 of an inch.
3. Check and replace loose seals on the door.
4. Clean the coils. (behind or underneath)
5. Make sure there is adequate ventilation & that the freezer isn't sitting in a warm place / direct sunlight.
6. If your freezer is older, consider getting a newer model.