LED Solar Lights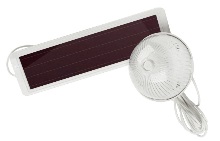 The abundant and free resource known as the sun can power all of your lighting needs! LED Solar lights can be incorporated into nearly any kind of lighting you can imagine. Traditional incandescent light bulbs have been replaced with CFL bulbs because they save energy and last longer. Due to LED's (Light Emitting Diode) low power usage and long lifespan, they too have become popular for applications inside and out. Those same properties make LED's perfect for solar lights.
Solar powered lights are highly practical for areas where a normal power outlet is not accessible. They can be used in any number of ways including illuminating highway signs, billboards, garden accent lighting, etc.
A LED solar light is usually comprised of the following components:
A solar cell or panel which can be integrated into the light in some fashion or can be a separate entity attached by a cable or cord. The latter is useful when the light will be positioned in a location that does not receive regular sunlight.

A rechargeable battery is required to store the sun energy during the day so that it can be used at night.

LED bulbs and reflector. Due to the relatively small amount of lumens (measure of light) produced by LED's, units usually contain several bulbs and are backed by a reflective surface to increase output.

Some type of housing for the circuitry and other components. Whether it is a highly decorative garden light or a purely functional shed light, the housing needs to be durable and water tight.
LED solar lights are not created equal! Often times you'll come across very inexpensive kits at the big box stores. In this situation, like most, you'll get what you pay for. These cheap lights are typically made out of flimsy plastic, inferior circuits and are hastily constructed. The lack of quality in the internal wiring and solar panel will not allow for optimal charging or lighting. The plastic covering the solar cell will yellow & crack. (unlike glass) The plastic reflective surface behind the bulb won't put out as much light as metal would. A quality solar light will have a housing made of aluminum rather than plastic. The batteries included are also poorly made, wont hold as much charge or for as long as a more costly kit. Now, if you are comparing apples to apples, by all means purchase the cheapest one. However, remember the reasoning behind the widely varying prices.