Solar Powered Radios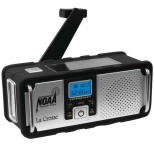 La Crosse Technology 810106 Noaa Solar Weather Radio
Charging solar powered radios with free energy from the sun is perfect for camping, cookouts or an afternoon at the beach. There are many different types and uses for off grid radios. There are portable, personal solar chargers available for iPods and other MP3 players, cell phones and tablets (Internet Radio). Radios with speakers suitable for sharing music publicly will often times have an integrated solar panel rather than a separate cell connected by wire. Some of them come with hand cranks in addition to solar cells to ensure power during low light conditions or an emergency. One popular product consolidates many devices into one small, portable unit. The solar flashlight radios (below) contain a solar cell and hand crank to create power to recharge their replaceable internal batteries. It provides an FM radio, LED flashlight and adapters to charge many types of cellular phones. The device is especially valuable in the even of nighttime power outages or weather related calamities. Some other combination style sets include additional items / functionality like audible panic alarms, clocks, bottle openers and compasses among other things.
All of the solar radios (in the strict since of actually playing AM/FM public broadcasts) contain four standard components...
Solar cells or panels to collect energy.
A battery of some sort to store power. (view solar powered batteries page for more info)
A tuner to find stations or NOAA weather band.
Speaker or headphone jack.
Top 10 Reviews has a nice site comparing different solar radios and features for 2013.
If you already have a regular radio and are looking for a solution to power the rechargeable batteries or the unit directly, try the solar backpacks page. If you would like to convert your own standard model into a real time, solar powered radio without batteries here is a do it yourself video.